Davids Cookie Dough Fundraising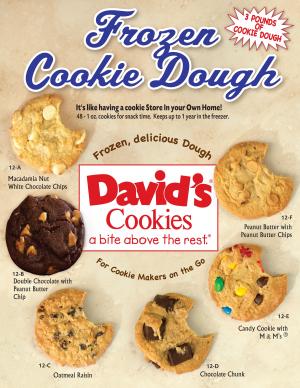 DAVIDS FUNDRAISING TUB COOKIE DOUGH
DAVIDS COOKIE DOUGH PRE PORTIONED BROCHURE
Save time with Davids Cookie Dough Fundraising rather than baking your own from scratch. We begin with a delicious gourmet recipe that includes large chunks of chocolate and other ingredients, then pack and ship it directly to your home for an easy and fun dessert the whole family can enjoy.
Put an end to learning how to make cookies from scratch - just scoop and bake for that fresh homemade taste. Varieties include Chocolate Chip, Peanut Butter, Sugar and more.
Schools and organizations, try Davids Cookie Dough fundraiser as a great way for raising money it's profitable and simple fundraising!!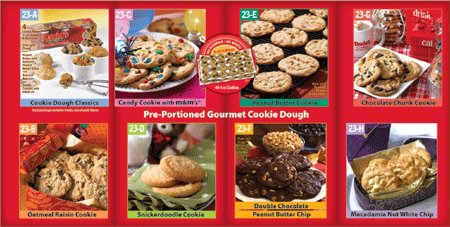 History about Davids Fundraising
a profitable and simple fundraising product
David's is the place to find delicious, soft chocolate chip cookies you don't have to bake. Forget small chips, our recipes include large chunks of gooey Hershey's chocolate for a home-made taste.
Made from a clever mixture of wholesome milk, eggs & creamy butter, each cookie is oven-fresh & golden brown to perfection with top quality ingredients.
Save time from making your own dough from scratch and pick up a batch of a dozen David's Cookies today for the whole family. Flavors include Chocolate Chunk, Peanut Butter, Oatmeal Raisin and more.
They're great for birthday parties and best served fresh. The company was an immediate success and David's brand of fresh baked cookies became well known throughout the Northeast and across the country.
Even his name created a huge following and David's everywhere ate up his cookies to gain one of the coveted David's cookie tins.
The delicious recipes won many awards, including the NY Newsday Cookie Award for the Best Chocolate Chunk Cookie. By the mid 1980's, David's Cookies was an international franchise with over 250 cookie shops throughout the world. So if you choose to use David's Cookie dough for fundraising you are using the best!!
Call for More Information 844-Raisefunds or 844-724-7338
Return to Gourmet Cookie Dough Fundraising Here
Return to the Top of Davids Cookie Dough Fundraising Here